back
Münchner Stadtmuseum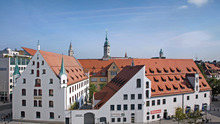 Information:
The Münchner Stadtmuseum dedicates itself to the city's history but also puts on special exhibitions covering topics such as the history of international civilization and culture. The permanent exhibition ''Typically Munich!'' covers three floors illuminating the city's cultural development from the Middle Ages to the present.
Also, don't miss the diverse exhibitions on photography, musical instruments and contemporary history (Nationalsocialism in Munich). Last but not least, the museum frequently hosts movie nights at its film museum section and concerts in the music instrument section.

Opening hours:
Tues.-Sun. 10 am-6 pm
Location:
St.-Jakobs-Platz 1

How to get there:
S, U3/6 Marienplatz
U1/2/3/6 Sendlinger Tor
Bus 152 St.-Jakobs-Platz
Bus 52 Blumenstr.

Phone: (089) 23 32 23 70
Fax: (089) 23 32 50 33