Akademie der Bildenden Künste (Academy of Fine Arts)
The cradle of the Blue Rider
"No specific class schedule, no steady mechanism," was the dictum proscribed by the founding document of the Akademie der Bildenden Künste München (Academy of Fine Arts Munich). Dating back to the May 13, 1808, this document marked the 200-year anniversary of this art institution in 2008.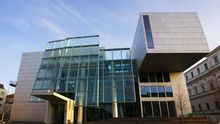 The previous history of the academy goes back to the 18th century; in 1770 Elector Maximilian III Joseph decided to support a drawing school that had been privately established four years before. In comparison to newly founded art academies in Berlin, Dresden, Vienna, Leipzig and Düsseldorf, however, the existing drawing school did not have equivalent competitive standards. Therefore, King Maximilian I of Bavaria commissioned Johann Christian von Mannlich—the director of the Munich Art Gallery at that time—to render an expert opinion. After long deliberations over von Mannlich's proposal on how to improve the situation of art schools in Bavaria, Maximilian I enacted the constitution of the Royal Academy of Fine Arts Munich. The former head of the art academy in Düsseldorf, Johann Peter von Langer, was appointed the first director of the Munich academy. His secretary general, philosopher Friedrich Wilhelm Joseph von Schelling—an eminent purveyor of German Idealism—was among those who drafted the academy's constitution.
From its very beginning, the academy offered a broad variety of classes, including workshops for painting, sculpture, architecture and the art of engraving. Besides fulfilling its educational mandate, the academy soon became regarded as a society of artists, who advised and supported the royal court and the Bavarian state in cultural matters.
more...

In order to read the full article, please register with MUNICHfound.
Registration is fast, free and easy.
Register now, or log in with your Member ID and Password below.
Not a MUNICHfound member yet?
Get Free Access
Register with MUNICHfound
Munich in English - selected by independent Locals for Cosmopolitans, Newcomers and Residents - since 1989
Online Classifieds
Jobmarket
What's Up