| |
BMW World
A baroque home for Bavarian car technology
If a car is just a means of transportation between point A and point B, the BMW World—the building as well as the product marketing strategy—will be terra incognita for you. But if you are one of those people who associate a certain lifestyle with a particular car brand, then you will be a willing victim of the seductiveness of this unique and futuristic new building, which opened in 2007.

It was BMW's intention to top these predecessors, and they did. The BMW-World is a contemporary capitalist cathedral, celebrating the high mass of automotive technical achievements. It truly transmits the feeling of driving a first-class car with high-end technology, ingenious innovations and unsurpassed luxury, as is its purpose. Buyers of new BMWs will come The structure is a well-proportioned supplement to the sculpted architectural landscape surrounding the ingenious Olympic Stadium by Günter Behnisch, Karl Schwanzer's BMW tower and the BMW museum. Viennese architecture firm Coop Himmel(b)lau—known for its nonconformist architecture and led by Wolf. G. Prix, a former student of Karl Schwanzer—managed the translation of BMW's marketing strategy and corporate identity into a building of extreme beauty and impressive construction.

"Architecture must burn. Architecture which is bleeding, aching and tearing under strain": This was long Prix's guiding design principle. How does this correspond to BMW's demands for reliable dignified elegance? Well, even if you have problems with BMW's industry-high carbon dioxide emissions, you must admit that they are also responsible for facilitating great architecture. Architectural structures of this size are normally built by the state or other public institutions. Democra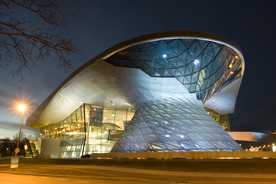 It was BMW's intention to top these predecessors, and they did. The BMW-World is a contemporary capitalist cathedral, celebrating the high mass of automotive technical achievements. It truly transmits the feeling of driving a first-class car with high-end technology, ingenious innovations and unsurpassed luxury, as is its purpose. Buyers of new BMWs will come here to pick up their cars and get juiced with happy feelings. BMW's efforts to give these buyers the sense that they've purchased an aesthetic original—and not just a mass product rolling off the line—are tremendous.

It is not a job just for BMW sales personnel, who may not have seen the revolutionary architecture of Boullée or Ledoux, nor the read the "Futurist Manifesto" of 1909, where the automobile triumphs over the arts. This "carthedral" is the pompous and public mis en scène for the baptism of the new owner into the cosmos of BMW World.
The building is constructed to mimic the inside of a 12-cylinder motor. One German magazine called it a tornado made out of steel and glass. It is dominated by a stage-like and dynamically twisted ramp, upon which a new customer "deflowers" the brand new car. The architects originally wanted a longer ramp, but the selling shrinks of BMW were afraid that overwhelmed buyers wouldn't be able to keep the car on the ramp in such an eroticised and emotionally charged situation. The roof—with its organic forms, filigreed steel-glass-skin and shiny twisted double cylinder—is full of dramatic power. When the building is lit, it can easily compete with the theatrical effects of the soccer arena. (Incidentally, that's also a private building.) Despite the futuristic high-tech construction details, the building radiates the archaic power of a classical work of art.
It has to be noted that this 500 million Euro building is part of the public space around Olympiapark; you can enter BMW-World without buying a car. The complex consists of about 73,000 square meters spread across six floors, with car parking decks, restaurants, rooms for driving simulators, a department for Youth Research and administrative areas.
For more information on exhibitions and events at the BMW World, visit
www.bmw-welt.com
.
© MF Wilson/Nov. 07