| |
English Garden
One of the world's largest city parks, Munich's English Garden easily upstages London's Hyde Park or New York's Central Park
No other city in the world is blessed with a green oasis comparable to the one found in the middle of Munich. Here, endemic flora and fauna flourish in abundance. Millions of visitors flock to it throughout the year. This remarkable place is Munich's English Garden.

Despite the park's undiminished popularity over the centuries, it was, at first, doubtful that the project would ever come to fruition. From 1387, the area that is now the English Garden was part of the hunting grounds of Bavaria's ruling family, the Wittelsbachs. It was an impenetrable wilderness, frequently flooded by the Isar River. Surprisingly, it was an American who, in the 18th century, conceived the idea of a public park for Munich.

Benjamin Thompson (1753–1814) from Massachusetts—who was later made Count Rumford in recognition of his numerous achievements—served as war minister and worked as a social reformer during the reign of the Bavarian Elector Karl Theodor (1724–1799). Karl Theodor never intended the Wittelsbach land to be used as a public park. In 1789, he commissioned Thompson to establish a military garden on the site of the former hunting grounds, where the soldiers could grow their own food in peaceful times, thereby lowering the cost of provisions. The project, stalled by a heat wave and the start of the French Revolution on July 14, was never completed. Thompson, who realized how potentially explosive the political situation was, talked the Elector into converting the military garden into a public park, open to all citizens.

On August 7, 1789, work began on the giant project, under the combined leadership of Thompson and the celebrated landscape architect Friedrich Ludwig Sckell. Volunteer groups worked day and night. Area farmers lent their horses and oxen. Gardening experts, technicians, engineers, craftsmen and their apprentices also contributed. Nurseries from Schleissheim, Schwetzingen and Biburg sent thousands of trees and bushes.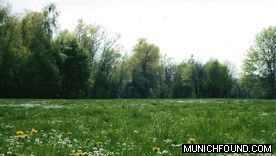 In May 1790, the English Garden was almost finished—even by today's standards an incredibly short amount of time to give shape to a huge, completely new park. Apart from the natural landscape that had been planted, decorative bridges and follies were also built. One such folly still in existence today is the five-story Chinese Tower, a monument to Europeans' fascination with Chinese objects in the late 18th century. The edifice we see is, of course, only a replica: the original tower was destroyed during World War II. It is unlikely that Thompson, responsible for adding the pagoda, ever imagined that, 200 years later, a beer garden—let alone one that serves about ten thousand people on a single warm day and more than one million liters of beer during the summer season—would thrive at the foot of this tower. The English Garden was also designed to serve educational and scientific purposes. Thus a tree nursery, an agricultural school and a school of veterinary medicine—which is now the university's veterinary faculty—were incorporated into the park.

Some areas of the garden were also left to shepherds, a tradition that is maintained today. Those who stroll through more remote corners of the park may find themselves confronted by a herd of sheep.

The northern and southern halves of the park are quite different from each other. In the north, a wilderness of trees, bushes and animals flourish freely. Most meadows are not even mowed until late summer. This area is never crowded; even on hot weekends, when more than two hundred thousand people visit the English Garden, large groups are rarely encountered here. The very tip of the northern section, however, is a bit more crowded. Here, the Aumeister, one of the three beer gardens in the park, offers a pleasant Bavarian atmosphere in contrast to the raucous merriment found at the Chinese Tower or the Seehaus, a yuppie hangout on the shore of the Kleinhesseloher See.

On hot days, it is hard to find a grassy spot in the southern section of the English Garden on which to relax. Rhythm and music groups frequently hold sessions here; tai chi and meditation groups seem unperturbed by their music-making neighbors. Some people play soccer, baseball and badminton, while others sleep, read, philosophize or sunbathe. Sun-worshippers can bare all, much to the amazement of many first-time visitors to Munich. The Freikörperkultur (FKK, nude culture) is as much a part of the English Garden as the Chinese Tower and is nothing to be offended by.


© MF Adler/July 06