| |
Müller'sches Volksbad
Swimmers will be hard pressed to find another setting like this.
"Ein Volksbad, hauptsächlich für das einfache Volk" (A public bath, mainly for the average person)—it was in this spirit that Karl Müller donated a piece of prime real estate—valued at 1.8 million Goldmarks—to the city of Munich in 1894. City organizers quickly went to work on the proposed project, a lavish swimming and bathing facility financed with the cash saved on acquiring the land. Designed by renowned Munich architect Karl Hocheder, the Art Nouveau masterpiece opened in 1901 nestling beside the Isar, opposite the Deutsches Museum.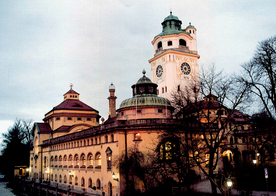 The elegant Art Nouveau interior design and décor of the swimming facilities cannot be found elsewhere in Munich or in even Germany. Before swimmers head for the pool's hardwood changing cubicles, they must buy entrance tickets at a window framed by marble columns. From the changing room, swimmers may gaze out across a large gallery to the hall's 31x13-meter swimming pool. A high stucco ceiling, Art Nouveau lamps hanging from intricate bronze fittings, a Greek, water-spitting gargoyle and a clock with a zodiac design are but a few of the trappings that set the tone at this unusual aquatic center. Smaller swimming pools are found in rooms off the main hall and offer swimmers warmer waters. In 1989, an archaic, and certainly sexist, rule was lifted at the Müller'sches Volksbad. Until that time, only men were allowed access to the large pool—women had to be content with the smaller ones. Today, men and women alike may enjoy every inch of this art-gallery-cum-spa.
The most beautiful room in the Volksbad, however, houses the Roman-Irish steam bath. Under a 15-meter dome, visitors may relax in a round pool of warm water while admiring the opulent surroundings.
more...
In order to read the full article, please register with MUNICHfound.
Registration is fast, free and easy.
Register now, or log in with your Member ID and Password below.
Not a MUNICHfound member yet?
Get Free Access
Register with MUNICHfound
Munich in English - selected by independent Locals for Cosmopolitans, Newcomers and Residents - since 1989
Online Classifieds
Jobmarket
What's Up