| |
The Asam Brothers
Munich's eminent purveyors or late baroque
Amid the neon Starbucks signs and sneaker stores of Sendlingerstrasse, one building's entrance is framed by craggy rock foundations that rise up its façade. Despite its singular appearance, few harried pedestrians stop to look, unless an umbrella-wielding tour guide should happen to block their path. It's hardly ever a postcard theme. The true stars of Munich's cityscape were designed by Leo von Klenze, among others. Its most gorgeous interiors, however, were the work of the prolific Asam brothers, and Sendlingerstrasse 32—the Church of St. John Nepomuk—is their masterpiece.

Cosmas Damian and Egid Quirin Asam were two of the nine children of Hans Georg Asam, a moderately well-known painter of church frescoes. (They were born in 1686 and 1692, respectively.) The sons eclipsed their father's fame in the earliest years of their careers. In 1711, the two left Mannheim to soak up the atmosphere of the Italian Baroque in Rome. Cosmas received the first prize of the Accademia di San Luca in the presence of the Pope just two years later.

Close relationships with church officials forged during this time were an invaluable resource when the two returned to Bavaria. They received contracts to grace churches, monasteries, and cathedrals throughout southern Germany with their frescoes, sculptures, and stucco work. Frescoes by Cosmas were particularly in demand, and received sky-high prices similar to those of Venetian artist Giovanni Tiepolo.

While working on the frescoes of Munich's Church of the Holy Spirit in 1727, both moved to the city for good. Cosmas bought land on Maria-Einsiedel-Strasse in Thalkirchen and created a gorgeous fresco-covered dwelling with a castle garden. (Today, the restored "Asam-Schlössl," houses a quaint traditional restaurant.) Egid built a small Baroque chapel on the grounds.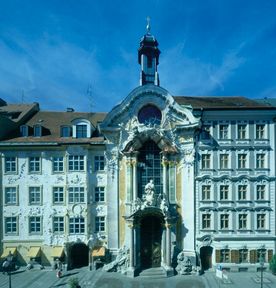 Perhaps inspired by this first venture in designing to his own taste (and the glory of God, of course), Egid began making plans to build a private church in the city center. He bought up the parcels of land surrounding the pair's Sendlingerstrasse apartment, and the two began working on their secret project. Free from the restraints of a contract, the brothers indulged their own aesthetic whims. Baroque architects always designed churches facing to the East, but the Asams' faces westward to make the best use of natural lighting. In addition, the crucifix hanging across from the pulpit is much lower than in most Baroque churches, where design was supposed to force preachers to look up to Jesus, both literally and figuratively. The brothers also built a secret window providing a view of the altar from their neighboring apartment.

Though it only measures 22 meters by 8 meters, and holds just 12 rows of pews, the Asams crammed each inch of the space with evidence of their formidable talent. The interior drips with surreal frescoes, rosy marble, gilt skeletons, and other elements typical of the late Baroque period. Four columns on the main altar reference the columns that their mentor Bernini placed over the grave of St. Peter in Rome. A compartment underneath the tabernacle even holds the bones of St. John Nepomuk: a 14th century Bohemian monk to whom the church is dedicated and for whom it is named.

Cosmas died before seeing their joint dream realized, but Egid finished work on the church in 1746. To his dismay and our benefit, Munich residents bristled at the apparent arrogance of keeping the jewel behind locked doors, and demanded it be opened to the public. It is now open daily from 9 am to 5:30 pm.


© MF Nicholson/July 07