| |
Buchheim Museum
Just an hour from Munich, the small town of Bernried couldn't be farther away from hectic urban bustle. Fields of bright yellow wildflowers slope down to Lake Starnberg, backed by a craggy Alpine horizon. Amidst all of this, the sweeping white lines of modern architecture emerge from pines at the water's edge. Though organic enough to harmonize with its environs, the building's design is clearly not that of a Gaststätte (rustic restaurant) or sailboat rental shop. In the wonderful setting of Bernried, the building is also a kind of chamber of wonders: Lothar-Günther Buchheim's Buchheim Museum. The museum's striking location and design are an appropriate setting for its unusual collection, single-handedly amassed by Buchheim, a multifaceted participant in the creation and dissemination of art.
Lothar-Günther Buchheim could hardly have chosen another vocation. He grew up in an artistic family, and already had his first exhibition of wood cuttings as a teenager in the 1930s. He then began exploring watercolors on a trip down the Danube, and experimented with photography while serving on a German U-Boat during World War Two. (Those experiences and images would later serve as the inspiration for his smash novel—Das Boot—and the Oscar-nominated film of the same name.)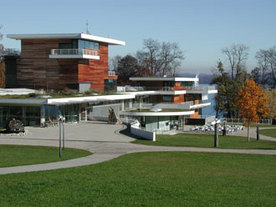 After the war, most Western German museums concentrated on rehabilitating Nazi-persecuted artists. Members of the Blue Riders and Bauhaus now found themselves the focus of huge retrospectives, lauded as the hope of modern German art. Both curators and collectors alike, however, ignored the more figurative pieces by German Expressionists, members of die Brücke in particular. (Founded by architecture students in Dresden in 1905, the movement rejected the academic tradition and bourgeois norms, and is characterized by basic planar forms, stark color contrasts, and primitivist influences.)
Buchheim was running a gallery in Frankfurt at this time. Although it showcased French modern painters like Picasso and Braque, Buchheim was disturbed by the underrated position of German Expressionists, and began to buy up their works at cut-rate prices. His motivation, however, was always to introduce these artists to the public. "I don't like to hear people call me a collector," he once said. "I bring things together and spread them out again to the public. Really, a demonstrator of art with a missionary impulse."
To that end, he founded the Buchheim Publishing House in 1951 and began to publish affordable prints, calendars, and art books. The first book, in 1956, was an introduction to die Brücke. Buchheim's efforts did bring the painters more recognition, and by the 1980s, his collection was regarded as one of the world's richest. It went on world tour in the 1980s, and the Haus der Kunst showed 700 pieces, but otherwise Buchheim was the only one who could enjoy the works firsthand. He became determined to build a museum.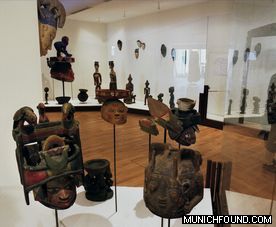 Buchheim's museum, however, would be of a different sort. He hoped to break down traditional boundaries and show artistic pieces in the context of anthropological items and folk art that had inspired them. In particular, he wanted to showcase links between early modernism and art of the South Seas and Africa. Both his hometown of Feldafing and Munich were slow to accept the idea, but Bernried's savvy lord-mayor saw the value of the project, and a groundbreaking ceremony was held there in 1998. Günter Behnisch—the creator of Munich's Olympic Stadium—designed the structure, which opened in 2001.

The figurative German Expressionists remain the core of the collection: Ernst Ludwig Kirchner, Karl-Emil Nolde, Otto Mueller, and others. Works by such predecessors as Lovis Corinth, or contemporaries such as Max Beckmann and Oskar Kokoschka provide context, as does the rich collection of folk art. Carousel animals, paper weights, furniture, textiles, and jewelry from Asia, South America, and Europe make it clear that art is not produced in a vacuum.
The Buchheim Museum is open Tuesday to Sunday and holidays, from 10 am to 6 pm. Entry costs € 8.50. There are several means of reaching Bernried. One may take the S6 to Tutzing, and then the regional train 9614 to Bernried. The museum is 20 minutes by foot from the train station. From Starnberg (also on the S6 line), Bayerische Seenschifffahrt operates a special "Phantasie" ship to the museum at 12:30 pm, 2:45 pm, and 5 pm, Tuesdays through Sundays, May through October 14.
For current and upcoming exhibitions, check
munichfound.com/whatsup
or go to
www.buchheim-museum.de.
© MF Nicholson/June 07