| |
Theresienwiese
The city's world-famous Oktoberfest grounds.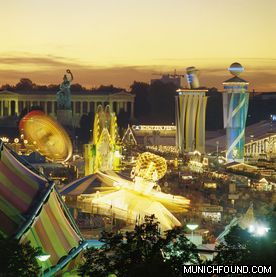 No one would ever call the Theresienwiese the heart of Munich. Originally located outside the city gates, this 54-acre meadow lies silent most of the year. In September it explodes with the raucous tumult of Oktoberfest. Tollwood and other festivals also pitch their tents on the site, but building regulations against permanent structures mean that its long-term residents are bugs, birds and the occasional sun-bather. Many tourists probably don't even give it a look. For more than a century, however, the Theresienwiese has been an indispensible backdrop for the celebration of Munich and its residents.

On October 12, 1810, Crown Prince Ludwig of Bavaria (later King Ludwig I) married Therese von Sachsen-Hildburghausen.

The Wittelsbachs hosted a five-day Volksfest of music, feasts and parades throughout Munich. The gala was an occasion not only to celebrate the marriage, but also to thank their subjects for the patience they had shown during the Franco-Austrian war, when Bavaria was a French ally.
more...
In order to read the full article, please register with MUNICHfound.
Registration is fast, free and easy.
Register now, or log in with your Member ID and Password below.
Not a MUNICHfound member yet?
Get Free Access
Register with MUNICHfound
Munich in English - selected by independent Locals for Cosmopolitans, Newcomers and Residents - since 1989
Online Classifieds
Jobmarket
What's Up